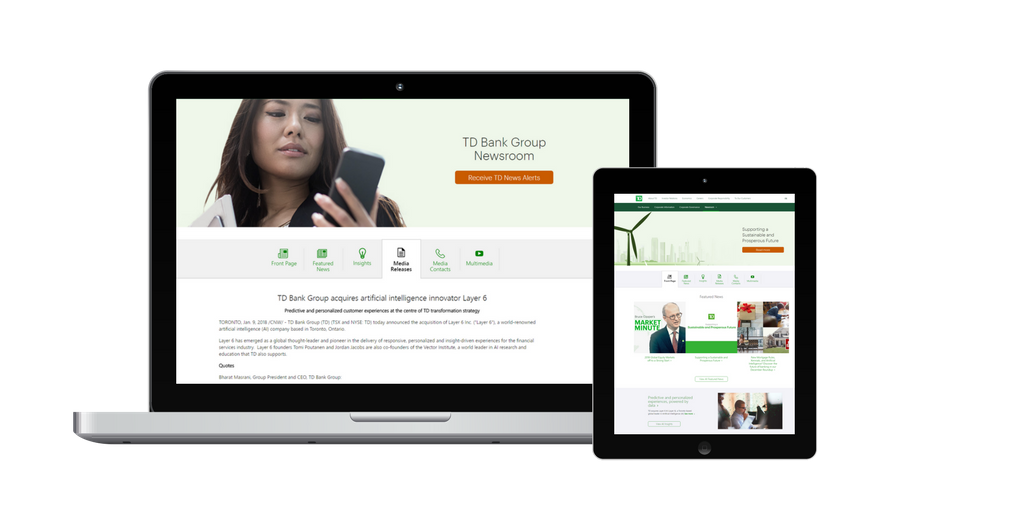 Gain complete control of your brand's online newsroom
Give your communications team complete control over your online newsroom. With automatic content updates from Cision Distribution by PR Newswire, MediaRoom is professionally designed, developed and securely hosted. Fully equipped with marketing tools and webmaster functionality, your communication team will have a suite of time-saving resources at your fingertips.
News Release Automation – Every news release and multimedia content distributed via Cision Distribution is automatically synchronised and uploaded into your MediaRoom.
Custom Web Development — Mobile responsive, social integration, multimedia galleries and SEO friendly, MediaRoom adopts industry best practices to improve user experience and spark online discoverability.
Content Management System –

Secure access to our proprietary content management system (CMS) allows you to upload and edit your content on any device, anytime and anywhere.
Request More Information
Track and measure your digital impact
Access robust reporting tools to show how your content is being accessed. Stay up to date on content performance and track visits over time, top pages, mobile vs. desktop users, visitor map, and receive other advanced data .
Intelligence & Analytics – Demonstrate how users engage with your content through advanced web analytics and marketing insights. In addition to our stand-alone analytics, we can build our sites to roll seamlessly into your Google or Adobe Analytics platform.


Lead Generation – From a simple newsletter sign up to the unlocking of premium assets, on-page lead generation allows your team to take credit for the demand your content generates. Easily create and launch forms on any page right from your MediaRoom dashboard.
Request More Information